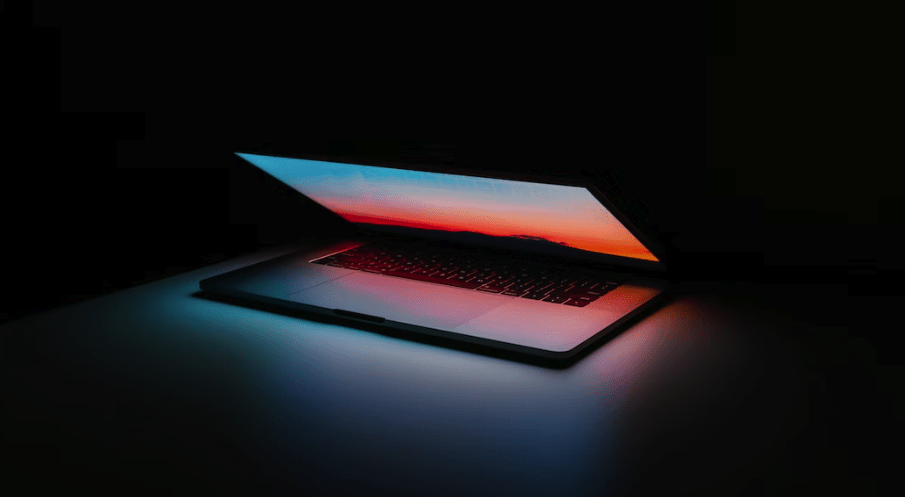 How much does a website really cost?
You have probably never asked yourself how much a website can cost but this question appears when you want to create your website.
If you are creating your own website, you should compare prices and get an idea of the different solutions available on the market. Depending on the solutions that exist the prices can strongly vary whether it is a fully customized website made by an agency or a website that you build yourself with a website builder.
For a custom website made by an agency, this study shows that on average you will have to spend around £200 to create the website and a continuous cost of £50/month for maintenance. It can be much more expensive if you use a web designer and prices can rise to around £6,000, with an ongoing cost of $1,000 per year. Creating a website by yourself with a website builder the prices can start from £4 to £13 per month.
In this article we will see why Ozyss is a more affordable solution in mid-term and the fastest and easiest way to create your website.
If you have already looked into creating your own website you must have already heard about solutions like Wix or Squarespace to create your website? These solutions provide a platform that allows you to create your own website for a monthly subscription. Thanks to their website builder tool you can design and create your own website from A to Z. People who use this solution don't realize how much time it takes to learn how to use these solutions, it can take months and require a lot of your free time. In addition, the result can be disappointing as these platforms offer templates that are not adapted to your needs and when you make the changes the site has nothing to do with what you expected.
 Can we create a free website with Wix?
In a word, the answer is yes but you will have Wix ads on your website. You can use Wix for free but the free plan of Wix is extremely limited.
Here are the disadvantages of the free version of Wix:
Storage space and bandwidth are very limited (your site will be slowed down if there is too much traffic).
You don't have a domain name. The URL of your site is the form: www.yourwebsitename.wixsite.com
Your site displays Wix ads (see screenshot below).
You cannot sell (no ecommerce).
The free version of Wix results in sites that do not look very "professional". The inability to use a real domain name is problematic. Wix prices start with a £4/month subscription but with this offer you can only add your domain name and you will still have Wix ads on your website. It's expensive for a website that shows ads, and doesn't look professional. If you want a more professional website, you will have to take the £11/month offer.
Squarespace offers more options but at a higher price.
This solution offers many models, but you will have to spend a lot of time to adapt the models to your taste and this can lead to an unsatisfactory result.
The negative sides:
Additional fees for several features
Free version limited to 14 days without being put online on the Internet
Customer support is difficult to reach
The entry price of this solution is £13 per month or £156 per year unlike Wix this solution does not display advertising which explains the higher price for the initial offer.
Ozyss a more cost-effective solution in the long run.
Ozyss is a solution between an agency and a web builder, because it offers the same quality of service as an agency and the affordable prices of a website builder solution. Ozyss offers turnkey websites unlike web builder solutions you won't have to spend time and energy to create your website. When you create a website with Ozyss you will be directly connected to a specialist who will take care of the website creation and provide you with training so that you can update the content.
With solutions like Wix or Squarespace you will have to spend many hours to build your website while Ozyss allows you to have your free time while their team builds the website for you.
Even if Ozyss is a solution that requires a higher cost at the creation, it becomes cost effective in a long run. We made a test and compared the prices of the websites over three years and here are the results.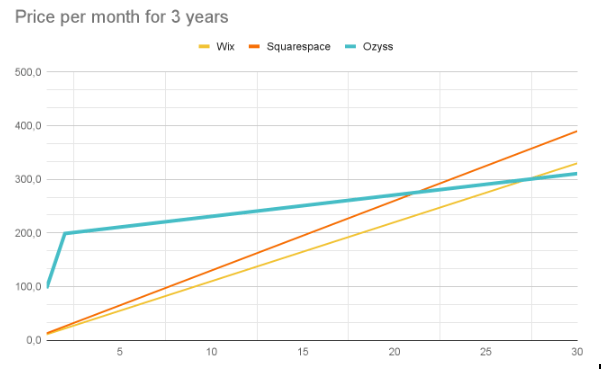 Ozyss is the lowest cost solution from the 27th month. After 27 months a website made with Wix will cost £310, a website made with Squarespace will cost £380 whereas with Ozyss it will cost £300. With a similar offer, Ozyss has proven to be the most affordable solution. Moreover, with the option to pay in multiple times without any fees, the starting price can even be reduced considerably, making it easier to access the website.
If you want to create your website please do not hesitate to ask us for advice, we would be happy to assist you. You can book an online demo here or contact us via our contact form.